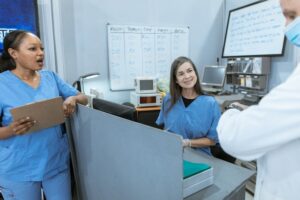 Healthcare facilities rely on alarms and notifications to provide quality patient care. Nurse call systems are the star of these life-saving notifications that a patient needs assistance. However, one issue many clinicians now face is alarm fatigue. Facilities may need to upgrade their nurse call systems to help reduce the risk of alarm fatigue for nurses and other healthcare professionals. 
What is Alarm Fatigue for Nurses?
Alarm fatigue is a serious problem for healthcare professionals. With constant beeping and other forms of alarms, many become desensitized. It's a type of sensory overload that can lead to major issues for patient care, such as delayed action or missed alarms for serious issues. In fact, many people have died as a result of alarm fatigue from their healthcare team. 
False alarms, excessively noisy alarms, and also a lack of alarm differentiation can all lead to alarm fatigue. Unfortunately, many outdated nurse call systems can be the source of these issues that can cause desensitization to alarms. 
Because of this, many facilities are looking for life safety solutions to reduce alarm fatigue. There are many strategies for fighting alarm fatigue in your facility, but one that may work for you is upgrading to more modern nurse call systems.
How Modern Nurse Call Systems Help Fight Alarm Fatigue
For facilities with aging nurse call systems, it may be time for an upgrade to reduce the risk of alarm fatigue for your clinicians. Older systems often lack a significant amount of functionality, which can lead to excessive noise and false alarms.
Instead, newer call systems provide extra control for your team to take action and reduce alarm fatigue. For instance, they can help reduce false alarms and also allow you to customize alarms for each patient. Many systems also help prioritize alarms and make adjustments to reduce how many alarms your staff hears every day. 
Another option that may work well for your facility to help fight against alarm fatigue is providing two-way communication through audio or audio-visual methods with patients. This allows nurses to understand exactly what the call is for and prioritize accordingly. It also can cut down on unnecessary emergency calls for things like medication, water, or toilet calls. 
Life Safety Solutions from Wilson Fire Equipment
For reliable, advanced life safety systems, choose our team at Wilson Fire Equipment. Since 1916, we've been providing top quality life safety solutions for a variety of needs, including fire safety, security, as well as communication systems. We are proud to work with some of the top equipment manufacturers in the country so you get equipment you can trust in a system completely customized to your building and needs. Get in touch now to request a quote for your system installation or upgrade needs!