Nurse Call Systems Integration
Completing rounds is important for providing adequate care for all patients, but what happens when they need assistance before the next nurse comes around? Nurse call systems help solve this issue by allowing patients to alert healthcare staff to their need for assistance. 
Providing easy communication between patients and caregivers is only one way for nurse call systems to help you elevate your facility's standard of care.  Nurse call systems also improve workflow, nurse response times, and increase patient satisfaction for your facility. 
Wilson Fire Equipment (WFE) employs experts who help the healthcare community provide excellent care by designing and installing nurse call systems tailored to your facility. We complete a thorough site evaluation and discuss your goals at length before creating solutions that meet your needs. 
We provide custom nurse call systems and integration solutions for a wide range of healthcare applications, including:
Hospitals
Emergency facilities
Urgent care facilities
Rehabilitation facilities
Long-term care facilities
Skilled nursing facilities
Assisted living facilities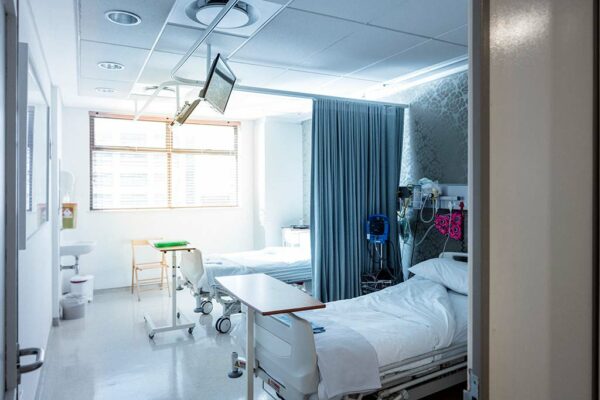 These communication systems for healthcare facilities can also be fully integrated with your other systems, such as security, fire, and life safety systems. They can also link with electronic health records and other records tied specifically to the patient. Integration not only helps improve patient care, but it also makes nurse call systems easy to use for your staff.
Wireless Device Integration for Seamless Communication
Nurse call systems have come a long way in recent years, now using state-of-the-art wireless technology to provide seamless communication between caregivers and patients. Our experts design these systems to meet your specific needs and your staff's preferred communication types.
When the patient or resident initiates an alert, through pendants, wall-mounted panels, or other devices, caregivers are alerted in real-time of the need. The alerts can go to smart phones, a central control panel, handheld devices, or even hands-free devices to help your healthcare professionals know the patient needs assistance.
Nurse call systems can also integrate two-way audio or audio/visual communications to help caregivers get the information they need while en route to the patient's room. This allows for fast, efficient care that both patients and nurses can benefit from. 
Our custom-designed nurse call systems make communication between patients and caregivers practically effortless so you can improve care and efficiency in your healthcare facility. Contact us now to learn more and request a quote for your nurse call system needs!