Life Safety System Inspection & Repair
Our factory trained technicians help you inspect, maintain, and repair your security and life safety systems to keep them operational and accurate. Wilson Fire Equipment (WFE) has been protecting people and property since 1916 and has the expertise you need for inspections, testing, and service for your critical systems.
Reports from the National Fire Data Center show that between 2014 and 2016, there were an average of 100,300 fires each year in non-residential buildings. These resulted in an estimated 90 deaths, 1,350 injuries, and about $2.4 billion in property damages and losses.
If you end up being one of the many facilities that experiences a fire, you want your fire and life safety systems in top condition to help with early detection and suppression. Inspections, testing, and regular service of your systems help you have peace of mind that you're protected during a fire or other emergency.
We inspect, test, and maintain all your systems, including: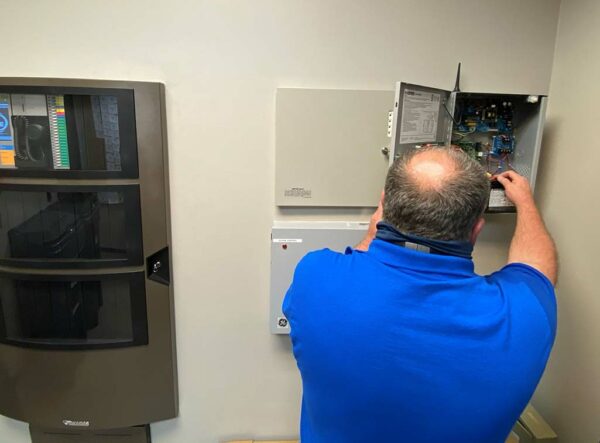 Even if we didn't design and install the system, we're here to help you maintain compliance and rest easy knowing your systems are ready to help you during emergency situations.
Regular inspection, testing, and maintenance of your life safety systems isn't just important for compliance, these measures also help keep your system functioning accurately. Routine inspections and testing can also help with early detection of malfunctioning components that need maintenance, repair, or replacement. This can help keep your systems healthy so they can work properly during an emergency.
Security system maintenance, inspection, and testing is also important for keeping your building secure. While facilities aren't required by law to inspect and maintain these systems like with life safety systems, a proactive maintenance plan can help keep your security systems operational so they can alert you of security issues and breaches. 
Our qualified team of specialists help with all your inspection, testing, and maintenance needs for your security and life safety systems and offer a full range of services to ensure functionality of these systems. We're your one stop for comprehensive system care.
Life Safety Code Inspections based on NFPA Standards and Local Code Compliance
The National Fire Protection Association (NFPA) is an organization dedicated to providing standards in the fire and life safety industry. Architects and Engineers refer to these standards along with local and state building and fire codes when they are designing buildings and projects of all sizes.  Together, they provide specific criteria on how to design, install, inspect, test, and maintain life safety systems. 
Most facilities are required and legally responsible for regular inspection, testing, and maintenance to help keep their life safety systems in peak condition to help reduce loss of life and property during an emergency. 
Our experts are well versed in these codes and standards and are able to provide you with the highest quality service. We can help you set up an inspection and maintenance plan to help you maintain life safety compliance. Our team will come out and perform these inspections and services and even keep records for you which you can access digitally for easy compliance documentation and reporting. At Wilson Fire Equipment, we're the experts in life safety systems. Our goal is to help you protect your facility. Contact us now to request service for your life safety or security systems!