Fire Detection Systems for NFPA Compliance
Fire detection is critical for protecting human life and property. Detection systems provide early warning in the event of a fire by notifying those in the building to evacuate, and to automatically notify fire safety personnel. WFE experts design quality, high-performance fire detection systems to protect your facility. 
Wilson Fire Equipment employs experts who study the various NFPA standards, the building and fire codes, as well as adopted local amendments to ensure that the system designed for your facility is in full compliance with applicable legal requirements.
Fire detection systems may include a wide range of devices to help offer early warning and extra safety. In addition to smoke and heat detection, specialty system specialty system applications may include options such as video or IR flame detection. WFE is conversant in applications and environments where standard detection may not be sufficient or appropriate.
We take time to really evaluate your building and fire detection needs to provide you with the most effective fire detection and notification system for your needs.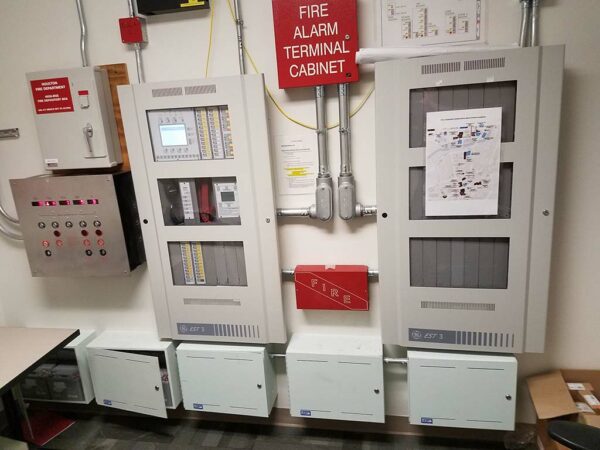 Network Based Fire Alarms, Smoke Detectors & Mass Notification Signals
Fire detection has come a long way in recent years. Today's fire detection equipment can be network based, "smart," and fully integrated with your other building systems. Network based fire alarm systems provide centralized monitoring, as each device and control panel in the system communicates with each other. With systems from our team, we even offer integrated graphic controls, which give you detailed visual information about your building's status. 
Smart smoke detectors are essential for early detection and reducing false alarms and malfunctions. Intelligent smoke detectors don't just monitor for smoke. They self-test, monitor battery levels, evaluate sensor function, and even compare data to historical information to determine whether there's a fire. 
All the components of your fire alarm systems are also fully integrated with other systems, like mass notification systems, emergency notification systems, and access control systems. When a fire is detected, your system can automatically alert building occupants as well as facility leaders, whether inside or remotely. They can also automatically turn off access control measures to help with faster evacuations during emergency situations. You can even check on your building's status remotely. 
If you're ready to improve fire safety and detection in your facility, contact us now to get started with a custom system based on your needs and budget!