About Wilson Fire Equipment
At Wilson Fire Equipment, we've been protecting people and property since 1916. We have the knowledge and experience you need to protect your facility from harm. We've been family owned and operated for over 100 years and continue to provide companies small and large with superior solutions and services.
Our goal is to provide security and life safety products and services of uncompromising quality and performance. We're dedicated to bringing you technologically advanced products in the most cost-effective way possible. We are committed to maintaining the reliability of each of the products we supply and promise to put quality first at all times.
Whether you're a single industrial building or a multi-campus facility, our team has life safety solutions to suit your needs. We offer cutting-edge, custom designed security, fire, voice, and life safety systems based on your company's specific needs.
We help protect small businesses, Fortune 500 corporations, and everyone in between with the latest products and services in fire safety, life safety, and communications.
Our mission is to consult and listen to your needs to provide the most effective system. We plan, design, install, and maintain your equipment to help you protect people and property. We're dedicated to providing legendary customer service and building a relationship with you to help you keep your facilities safe.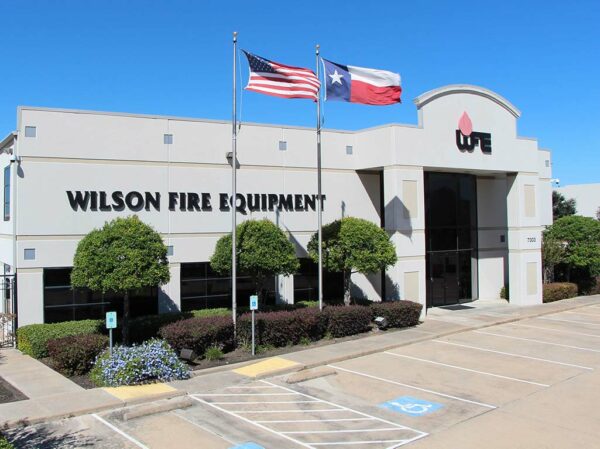 Leaders in Security & Life Safety Systems
Wilson Fire Equipment is an industry leader in security and life safety systems. Beginning in 1916 selling fire extinguishers, hoses, and pumps, we've been helping businesses stay safe with solutions for fire extinguishing, detection, and suppression. Since our humble beginnings, we've grown to provide a large range of services to help protect facilities in many different industries.
Today, we not only provide custom fire safety systems, but we also design, install, maintain, inspect, and monitor life safety systems, security systems, and everything you need to keep your facility safe and secure. We can help protect your facility safe from everything from fires to intruders by providing advanced detection and notification systems tailored to your needs and business.
Four generations of our family have led Wilson Fire Equipment to help facilities like yours safeguard against fires and undesirable events. We are happy to serve you by offering the latest solutions for keeping your facility safe.
If you need life safety or security system services, contact our team of experts today.