Life Safety Compliance Inspections
Wilson Fire Equipment (WFE) offers inspections, testing, and maintenance, fully compliant with NFPA 101 standards and applicable state and local codes, for all your life-safety systems and equipment, including:
Fire Alarm Systems
Fire Sprinkler Systems (Wet and Dry), including Fire Pumps, Backflows, Tanks, etc.
Clean Agent Fire Suppression Systems (FM-200, Ecaro, NOVEC, Water Mist and CO2)
Kitchen Suppression Systems
Fire Extinguishers
Fire Hoses
We also offer preventative maintenance inspections for Security and Nurse Call Systems
WFE provides an efficient and streamlined process, tracking your system and equipment inspection dates, contacting your personnel to schedule the required inspections, and then storing your pertinent records for you; safe, stable and bar-code based for accuracy from year to year.
WFE is partnered with Building Reports to provide comprehensive and easy-to-access digital on-line reports. Records for inspections, testing, and maintenance are compiled into electronic documents that comply with regulatory standards and are delivered in real-time. They are digitally stored for up to 5 years, and are available to access 24/7 from any location.
Building Reports provides reports that are more detailed than any other system and include:
Executive summary with an inspection overview
Color-coded inspection status tags for easy one-look indications
Discrepancy reports for manufacturer recalls and industry notifications
Inspection and testing reports with date and time of test verification
Inventory and warranty reports for managing the age of your system and devices
Life safety compliance inspection documentation from our team means no more papers, no more hassle, just fast, easy, no-stress compliance with NFPA 101 and other compliance standards from insurance providers, facility management, and more.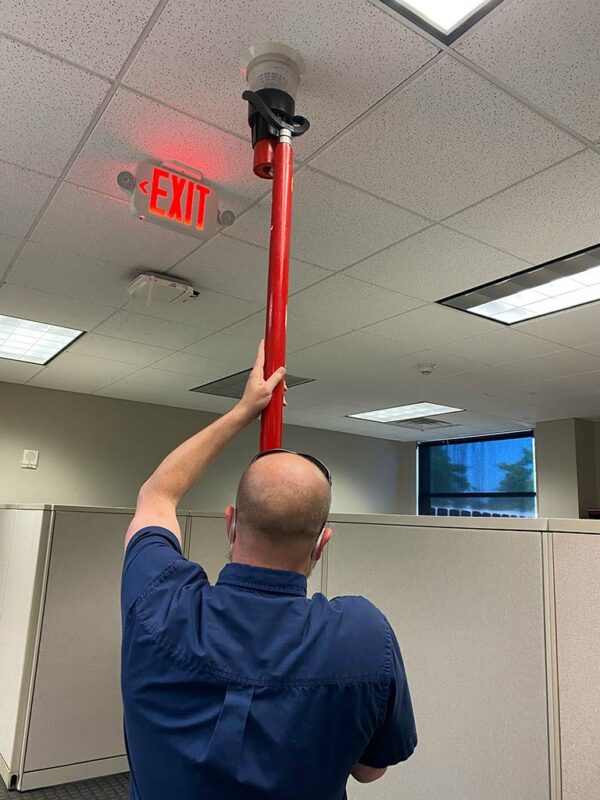 For businesses, when discussing fire protection, code compliance is vital.
As fire protection equipment provides life-safety protection to your employees and facility, code compliance works to protect your business from the results of fire, legally.
For inspections and service, code compliance is based on NFPA standards, both state and locally-adopted codes and amendments, and environmental conditions leading to "best practice". Differing jurisdictions often have widely varying requirements regarding the performance of system inspections, inspection timetables and documentation of same.
Understanding these codes and applying them properly is paramount for conformance. Wilson Fire Equipment (WFE), with over 100 years of continuous operation, is an expert at navigating these variables, and meeting the necessary responsibilities to keep your business in legal compliance.
NFPA – The National Fire Protection Association is a body comprised of industry professionals and various experts who work together to determine suggested standards for quality, installation and inspection to improve the safety of the public.
For fire protection, the most commonly referenced publications are:
NFPA 72 – National Fire Alarm & Signaling Code
NFPA 13 – Standard for the Installation of Fire Sprinklers
NFPA 101 – Life Safety Code
NFPA 2001 – Standard on Clean Agent Fire Extinguishing Systems
NFPA 10 – Standard for Portable Fire Extinguishers
International Building Code
International Fire Code
Local Amendments