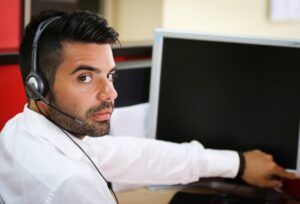 Most businesses have security systems. They are incredibly beneficial for protecting your people and property. However, you might be wondering if you should get professional security systems monitoring in Houston. There are a few different approaches to commercial security monitoring for businesses. Each has pros and cons, but professional monitoring services offer many advantages. 
Security Systems Monitoring in Houston: What are the Options?
If you're ready to start protecting your business, a security system is essential. Commercial security systems help deter and detect many issues that can put your business at risk. Business security systems use innovative equipment to identify potential security or safety issues. In many cases, fire and life safety systems also integrate into the security system so you can view system conditions from one source. These systems involve everything from cameras and sensors to access control systems. However, it's what you do with information from these systems that matters. After all, an alarm is no good if no one calls the authorities. That's why system monitoring is so important. There are two basic options for monitoring a security system: self-monitoring and professional monitoring. 
Self-Monitoring
Self-monitoring is where you monitor the system yourself. Alarms sound when there is a problem. Also, with most modern systems you also receive a notification to your phone or computer. Now, you can often share this notification with several different people, such as your trusted management team. However, no one is specifically watching for security issues 24/7 like with professional security systems monitoring in Houston. Also, the system relies completely on you to call the fire department, police, or other emergency services. 
For example, let's say someone breaks into your business at night with the intent to burglarize your business. The burglar alarm goes off. Because it's after hours, none of your employees are there to hear the alarm or see the criminal break in. You receive a notification on your phone, but you sleep through the notification because it's the middle of the night. No one calls the police and the burglar gets away. The next morning, the people on the opening shift discover the missing goods and damage from the burglary. You then must call the police to report the crime and get them to investigate in the hopes they catch the criminal. Even if you have video camera footage of the burglar, it can still be incredibly difficult for law enforcement to catch them. 
As you can see, self-monitoring your security system means you are always "on-call" to handle alarms. You're responsible for calling the authorities if something happens, otherwise they don't know there is an issue. Now, you could hire security guards to monitor your security systems for you and fill that role. However, this is often cost-prohibitive for many businesses, particularly small and medium-sized companies. 
Professional Security Systems Monitoring in Houston
The other option for security systems monitoring in Houston is professional monitoring. Typically you pay a monthly fee for 24/7 monitoring. In most cases, if something triggers an alarm, the monitoring agency calls you and any other numbers listed to ask if you need assistance, just in case there is a false alarm. If there is no answer or if you ask them to on the phone, then they will contact the relevant authorities for you. Essentially, the default is to call the authorities unless they have authorization from you over the phone to simply disable the alarm. 
If you have professional security monitoring for your business, it might work something like this: Your burglar alarm goes off in the middle of the night. Just like in the other theoretical example, no one hears the alarm and you're fast asleep in your bed. However, this time, your phone rings and you answer it to hear the security system monitoring specialist on the other line. They explain that there has been a burglar alarm from the door sensor and ask whether everything is okay or if you need police dispatched to your store. You explain that you aren't there and aren't sure whether it's a false alarm. The monitoring specialist calls the police for you, who arrive just in time to catch the burglar. You suffer no losses beyond the broken lock because the criminal was caught before they could get away with your valuable inventory. 
You can get professional monitoring for all your integrated systems. The monitoring specialists can assess the situation to determine which authorities are needed. For instance, if the fire alarm systems detect smoke, they can call the fire department, whereas if there's a burglar alarm, they will contact the police for you. 
Why Choose Security Systems Monitoring in Houston?
There are many reasons why you might choose professional security systems monitoring in Houston for your business. Professional monitoring services help provide you with peace of mind that your business is protected at all times. The monitoring specialists are available 24/7 to respond to alarms at your business. 
Therefore, even if you miss the notification on your phone or are out of reach, someone is still available to assess the situation and call the relevant authorities. So, whether you're on vacation or asleep in your bed, your business isn't relying on you to see the security alarm and call the police or fire department. You have a backup in case you're not there to take care of the problem. This can also be helpful in case you're unable to contact the authorities quickly. For instance, if you evacuate due to a fire alarm and leave your phone on your desk, it may take many precious seconds to be able to contact the fire department. With professional monitoring services, monitoring specialists take care of this for you to help get the authorities there as soon as possible. 
The Drawback of Professional Monitoring
However, just like self-monitoring, there are some drawbacks to professional security systems monitoring in Houston. The main one being that the monitoring specialists send the authorities to your building unless you have confirmed it's a false alarm. This is great if you do have an active burglary or fire. However, if it is a false alarm and you simply didn't answer the call, this could result in false alarm fees from your local authorities. In Houston, if you have too many false alarms in a given year, you face certain fees. False alarm fees in Houston vary based on how often it occurs, but they can be costly if you run into this situation frequently. Generally speaking, you have one "free" false alarm per year before penalties apply. Check your burglar alarm permit for specific details, as it does vary.
Now, if your security system is configured and maintained correctly by professionals, your risk for false alarms is quite low. In most cases, frequent false alarms are due to poor installation, neglected maintenance, or a lack of employee training on how to use the security system. Therefore, if you have frequent false alarms, something is probably wrong. In many cases, you can take steps to fix systems that have frequent false alarms.
Also, the alarm monitoring professionals do give you a call in case of false alarms. This is to help avoid calling the authorities unnecessarily. Therefore, while this is a drawback, the risk of this is quite low if you take care of your system.
Wilson Fire Equipment – Your Go-To for Commercial Security, Life Safety, and Fire Alarm Systems
At Wilson Fire Equipment, we make fire, life safety, and security systems easy. Our team offers comprehensive services for your system needs. Whether you need a new system installed, an existing system repaired or maintained, or professional monitoring, our team is here for you. Our goal is to help you protect your people and property. We've been helping businesses since 1916 and are proud to offer customized systems and services tailored to your needs. Get in touch now for a free quote.