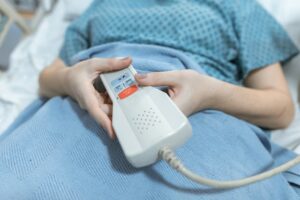 Nurse call systems are not just a code requirement for many healthcare facilities. They are an important part of ensuring patients are safe and happy. These systems help your medical staff provide the best quality care possible. In this article, we'll discuss some of the key ways that call systems enhance safety in your facility.
Nurse Call Systems: Essential for Patient Safety and Satisfaction
Nurse call systems are required in many types of facilities according to federal, state, and local codes. The Joint Commission also typically requires nurse call systems for accreditation. This is because these systems can help improve patient care and safety. Here are just a few ways these systems can help patients in your facility:
Communication Between Patients and Nurses
Nurse call systems facilitate easy communication between patients and nurses outside of typical rounds. Without these life safety solutions, a patient would have to wait to receive care until the nurse or other professional entered the room during their rounds schedule. This can create some serious safety hazards for patients and can also lead to high dissatisfaction among patients. 
For example, imagine what might happen to a patient if they were to fall and not have the ability to alert medical staff. Without a nurse call system, that patient could suffer serious and even life-threatening effects until someone discovered them after the fall. 
Modern call systems can even help categorize the type of call for even better workflow. For instance, the patient can use the call system to let staff know whether they're experiencing an emergency, need toilet assistance, or have a question. This can help nurses deal with calls in a timely manner based on the nature of the call. Some systems even allow patients to obtain information themselves, such as whether it's time for their medicine yet or what their health goals are for the day. 
Providing Valuable Data for Process Improvement
Another way advanced call systems can help improve patient care is through data analytics. While these systems usually go above and beyond nurse call requirements, they offer significant value for facilities looking to improve processes. Systems can store data on everything from average response times to the most common types of calls. From there, facility leaders can look at this data and make adjustments to policies, processes, and workflows to help improve care. This might involve reducing response times to under 2 minutes on average or even increasing rounds to reduce how often the patient must use the call system. Therefore, there are many ways that nurse call systems can help improve patient safety and satisfaction for your facility.
Nurse Call Systems and Life Safety Solutions from Wilson Fire Equipment – Protecting People and Property since 1916
When you need nurse call solutions, choose our team at Wilson Fire Equipment. We design, install, and maintain a large range of life safety systems, from healthcare call systems to access control systems. Our goal is to help you protect people and property, whether you run a healthcare facility, school, or manufacturing plant. We are proud to serve the Greater Houston community and have been family owned and operated since 1916. Contact us today to request a free quote for your system needs.