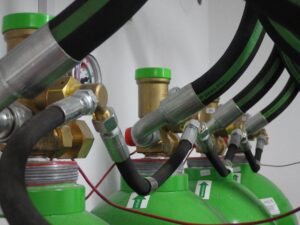 Houston fire suppression systems give you peace of mind that your people and property are protected against fires. These systems release suppressing agents to help control and extinguish fires until the fire department can get to your facility. However, just like any other system, you need regular maintenance to keep suppression systems working properly. In this article, we'll discuss maintenance needs for fire suppression systems.
Fire Codes Require Maintenance, Inspection, and Testing for Houston Fire Suppression Systems
There are several codes that apply to fire suppression systems in Houston. These systems need regular inspection, testing, and preventative maintenance. This is to help ensure the systems are in good condition and functioning properly in case a fire breaks out at your location. The City of Houston fire codes lay out many rules and guidelines for fire safety systems and maintenance. 
You need a licensed professional to perform maintenance and testing. Also, once the maintenance protocols are complete, this professional must document the service. Typically this includes detailing the date, name of the inspector, the type of agent in the suppression system, the weight of the container, and the container pressure at the time of inspection. Maintenance may include a visual inspection and a test to ensure the suppression system is working properly. 
Clean Agent Systems Need Inspection and Testing Every Six Months
Houston fire suppression for most commercial buildings include clean agents. These are suppression agents that help extinguish fires without leaving behind residue or damaging sensitive equipment, such as computers or machinery. When it comes to clean agent system maintenance, the City of Houston requires the systems to be inspected and tested at least once every six months. 
During an inspection and test, the professional is looking for many things that could cause a malfunction during a fire. For instance, canister corrosion, agent leaks, canister depressurization, or even damage in the hoses and nozzles could all make the system ineffective. That is why it's essential to have your fire suppression systems in Houston tested and inspected on a regular basis. When scheduling Houston fire suppression system maintenance, it may be the perfect time to schedule inspections for other fire safety equipment like fire alarms, sprinkler systems, and fire extinguishers. 
Life Safety Systems from Wilson Fire Equipment
Our team at Wilson Fire Equipment offers proven solutions for all your life safety system needs. We offer new system design and installation, system retrofitting, as well as system service and inspections. Since 1916, we've been providing the Greater Houston area with reliable, commercial-grade systems to address life and fire safety. Contact us today for a free quote.