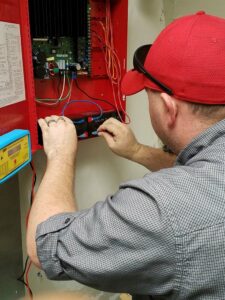 Fire alarm systems are essential for keeping your facility safe. They are your first defense for early evacuation and fire suppression action. For proper protection, it's critical to work with fire safety professionals to design and install a system customized to your facility. One important consideration for your fire alarms is whether to choose a hard-wired or wireless system. In this article, we'll discuss the pros and cons of wired and wireless fire alarms.
Choosing Between Hard-Wired or Wireless Fire Alarm Systems
While you should always check your local fire codes, frequently you have the option to install either hard-wired or wireless fire alarms. One may work better for your facility than another, so you should understand the differences. This can help you choose the right one for your property. Each offers advantages and disadvantages which you should be aware of. 
How Hard-Wired Fire Alarms Work
Hard-wired fire alarms use cabling to provide electricity and communications connections to the devices in the system. They typically work off of POTS (plain old telephone service) lines for communications between devices and with the fire department. 
For ultra-reliable fire alarm systems, hard-wired systems are often your best bet. Telephone cabling is still one of the most reliable ways for fire alarm systems to communicate, and they work even when the power or internet goes out. Hard-wired devices also tend to be less expensive than wireless options, though installing hard-wired fire alarms does require cabling for your building. 
One of the main disadvantages of a hard-wired fire alarm system is that it can be difficult to install. It can also create some aesthetic issues for your building. When installing hard-wired fire alarms in a new building during construction, your fire safety specialists can often install the fire alarms, cabling, and fire suppression systems in Houston before the drywall is installed. However, in existing facilities, fire alarm installation often means cutting into drywall to install the wires. Therefore, if you're installing alarms in an existing facility, you may face some challenges hiding these cosmetic issues. 
How Wireless Fire Alarm Systems Work
While wireless fire alarms have been around since the 1980s, they haven't gained much popularity until recently. This is because newer advances make them more reliable and affordable than ever before. 
These life safety systems use wireless communication technologies to initiate alarms when the devices detect a fire. Generally, these systems work either on internet protocol (IP) or radio/cellular technologies. This allows them to provide fire detection and alarms without the need for extensive cabling. Instead, they typically run on batteries and can often be moved and reconfigured at any time. Installation for these fire alarm systems is also much easier and less damaging to the facility. There's no need for cutting into the drywall to hard-wire the systems. 
It's important to keep in mind that wireless fire systems aren't for every facility. While these types of fire alarms are often reliable, it's important to keep in mind that they may not work properly if the internet goes down or if there's radio interference. Also, because they run on battery power, you will need to change the batteries out on every device in your system about every one to two years. For large buildings with complex systems and numerous devices, this can be quite a hassle and the price of batteries can make this a fairly costly maintenance activity.
Life Safety Systems from Wilson Fire Equipment since 1916
When you need life safety, security, and fire protection systems, choose our experts at Wilson Fire Equipment. We pride ourselves on offering custom system design, installation, and maintenance to help you protect your people and property. Our team uses equipment and devices from top manufacturers to ensure system reliability and durability. We've been providing superior services for fire protection since 1916. We're confident we have solutions to suit your needs and budget. Get in touch today to get a free quote!