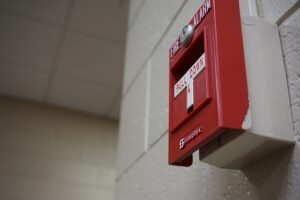 If you're installing, updating, or replacing your fire alarm systems, it's essential to make sure that your new system meets standards set by the Americans with Disabilities Act (ADA). Otherwise, you may face serious issues from non-compliance. In this article, we'll discuss how to make your fire alarm systems ADA compliant and why it's important for your workplace.
Fire Alarm Systems Must Comply with the Americans with Disabilities Act (ADA)
The Americans with Disabilities Act is a law that requires public spaces to provide equal access to buildings and systems for people with disabilities. This means that your commercial fire alarm systems must meet ADA standards. Basically, this involves making sure that people with disabilities will be able to notice the alarm in case of a fire and also be able to initiate the alarm. 
Making your fire alarms accessible to people with disabilities is important for many reasons. One of the biggest reasons is that it helps keep everyone in your building safe, regardless of ability. 
Additionally, non-compliance with the ADA for fire alarms can come with legal consequences for your business. Non-compliance can result in fines. Also, ADA violations can lead to lawsuits. Therefore, there are many negative consequences to not following ADA standards for your building and its systems, including your fire safety systems.
Key ADA Rules for Fire Alarms
The best way to make sure that your life safety solutions follow applicable codes and laws, including ADA and NFPA regulations, is to work with an expert team to design and install your fire alarm systems. An experienced and reputable company will know how to create systems that meet or exceed legal standards that might apply for your building. However, it's also helpful to know a few important details about ADA compliant fire systems.
Some rules about fire alarms from the ADA include:
Fire alarm systems need an audible alarm

Fire alarms need a visual alarm, usually in the form of a flashing white light

Visual alarms must flash between one and two times per second to reduce the risk of seizure for people with photosensitive epilepsy

All visible alarms in one room must be synchronized to flash at the same time

Alarm devices should be 80" above the floor or 6" below the ceiling, whichever is lowest

Alarm pulls must be 48" from the ground

Manual alarm pulls must be operable by one hand

Alarm pulls should be activated with 5 lbs of force or less

Alarm pulls can't require pinching, tight grip, or twisting motion to use
As you can see, there are many things to consider to ensure your fire alarms are ADA compliant. Therefore, it helps to work with an expert team to make sure all your fire safety systems meet all relevant laws and standards. 
Total Life Safety Solutions from Wilson Fire Equipment
Our team at Wilson Fire Equipment is here to help you with all your fire, life safety, and security system needs. We have been in business since 1916 helping businesses throughout Greater Houston stay safe and secure. Whether you need fire suppression systems in Houston or security system monitoring, our team has solutions tailored to your needs. Get in touch now to request a quote from our experts for system design and installation!