Nurse call systems are critical for many different types of healthcare facilities, from hospitals and nursing homes to long-term care facilities. Today's systems are incredibly advanced and offer functionality that can help you provide superior care to your patients. If you have older systems, now may be the perfect time to upgrade. Upgrading can give your facility the advantage of the newest innovations to help with communication between patients and nurses.  
What are Nurse Call Systems?
The basic premise of a nurse call system is that it allows patients to communicate with nurses that they need assistance. The first system was actually designed by Florence Nightingale in the 1850s. This involved placing hand bells at bedsides so patients could ring the bell for assistance.
Today, nurse call systems are much more sophisticated to keep up with the growing number of patients and increasing demands on nursing staff. Most facilities are now required to have systems with certain functions, such as door lights, to show when a patient needs assistance. In most cases, your facility will need a pillow speaker, a call button on the walls, and pull cords in patient rooms and restrooms to allow them to request help when needed. That way if a patient falls, for example, they can get help as soon as possible. As you can see, these systems are important life safety solutions for many types of healthcare facilities.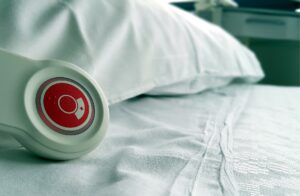 Benefits of Nurse Call Systems
In many cases, these call systems are required for your facility because of the many benefits they offer. These systems can help improve patient safety and satisfaction.
Patient Safety
If a patient were to fall, how long would it take to discover during a normal rounds schedule? If a patient suddenly gets worse, how long until a nurse would come to check on them? Call systems allow patients to communicate when they need assistance for situations exactly like these. Without an easy and accessible way to communicate with nursing staff, patients may be left in unsafe situations. With call systems, patients can get the care they need more quickly. 
Patient Satisfaction
Patient satisfaction scores are another area where effective nurse call systems can help your facility improve. As you well know, patient satisfaction scores can impact your facility in several ways. One of those ways is the amount of funding your organization receives from CMS.
Patient dissatisfaction can stem from many different things. However, wait times and poor communications are near the top of the list.  Call systems can help solve these issues for some patients. First, with a call system, nurses know when a patient needs help, which can help reduce how long the patient waits for assistance. Also, call systems with two-way communication for patients and nurses can help keep patients informed. While call systems aren't the end-all-be-all of patient satisfaction, a well-designed system can certainly go a long way in helping improve your scores. 
Why You Should Consider Upgrading Your Systems
Now, if you already have a call system in your facility, you might take a "if it's not broken, don't fix it," view. However, upgrading your nurse call systems can have many benefits for your facility. Therefore, if you have an older system, it might be time to look at newer options and make the switch to a more advanced system.
Improved Communication with New Nurse Call Systems
With older call systems, nurses don't typically have an effective way to know what the patient needs, just that they called. Usually the door light comes on for anything from a fall to having a question about their treatment plan. This can make it difficult to prioritize calls.
Many of today's systems allow the patient to communicate exactly what they need easily to the assigned nurse. Rather than simply pressing the same button for every need, many systems now allow them to choose from different options. For example, "emergency," "bathroom," or "question." Systems can also allow for two-way communication between the nurse and patient while the nurse is en route. More effective communication can help both patients and nurses in your facility.
Customizable Options for Your Facility
Unlike systems of the past, newer call systems allow for easy customizability so you can get the exact system you need for your facility. Today's systems can easily integrate with your other building systems, like access control systems or security systems. You can also choose a completely wireless nurse call system to reduce the time and expense needed for extensive wiring during installation. 
For nurses, customizable systems are also a huge benefit. Some systems even allow you to connect them directly to heart monitors and other equipment for automatic calls when an emergency happens. Call systems can also remind nurses of scheduled rounds, times to administer medications, and other important tasks to help improve workflow. To help reduce alarm fatigue, many systems also allow nurses to set their own sounds for each type of call. So, as you can see, easy customizability is a major benefit of upgrading to new nurse call systems.
Reporting and Analytics to Help Improve Patient Care
Another great benefit of modern systems is that many offer analytics and reporting. For instance, say one patient needs help more frequently than others. New systems can identify this so that supervisors can adjust assignments as necessary.
Also, reporting can provide invaluable data about the care you offer to patients. Reports can show how long it takes to respond to each patient call and even average number of calls per day or hour so you can adjust staffing schedules to suit typically busier times. Depending on the system, you can even see different types of calls to identify areas of weakness in patient care. For example, if there are frequent falls in your facility or if patients often need to ask questions about their condition. This can help your facility find areas to improve for patient satisfaction and safety.
Advanced Life Safety Solutions from Wilson Fire Equipment
When you need high quality life safety system design and installation for your medical facility, choose our experts at Wilson Fire Equipment! We've been helping protect people and property since 1916. Our team offers state-of-the-art systems to help you improve safety and security. Whether you need new critical communication systems or systems to help with visitor management, our team is here for you. We create systems that fit your unique needs while maintaining compliance for things like HIPAA and IAHSS. Get a free consultation and quote for your facility today!