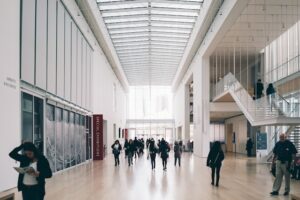 As a commercial building owner, you are responsible for the safety of your tenants and employees. One way to help ensure their safety is by having a natural gas detection system installed in your Houston building. Natural gas is odorless and colorless, so it can be tough to detect without the right technology. In this blog post, we'll discuss the importance of detection systems in commercial buildings.
If you need gas detection, fire alarms, or other life safety systems for your building, contact our team today for system design and installation.
The Dangers of Carbon Monoxide Poisoning in Commercial Buildings
Carbon monoxide poisoning is a serious hazard in commercial buildings. It can occur when gas-powered appliances are in poor condition, located in a confined space, or used improperly. When natural gas is burned inefficiently, it creates carbon monoxide. Carbon monoxide is toxic to humans and can cause serious illnesses and even death.
Therefore, natural gas detection an important tool for the safety of the building's occupants. Houston businesses should take gas safety very seriously and implement gas detection systems. These alert personnel of carbon monoxide levels before dangerous buildup occurs. Monitoring gas levels from reliable gas detectors is essential: A safe workspace means employees can focus on providing services to their customers without having to worry about carbon monoxide gas exposure.
Benefits of Natural Gas Detection Systems in Houston
Natural gas detection systems are life safety solutions that provide peace of mind by alerting facility managers and personnel when unsafe levels of natural gas or carbon monoxide have been detected. These systems are relatively low cost to install and generally integrate well with fire alarm systems. Gas detectors can save property, equipment, and, above all, lives.
How Gas Detection Systems Work
Natural gas detection systems work by monitoring air for the presence of combustible natural gas and carbon monoxide. These systems measure the concentration of a given gas and provide an indication to operators if the amount exceeds a user-defined warning level. Most commonly these systems use electrochemical sensors to detect natural gas. These detectors connect to alert systems that let workers, technicians and engineers know when there is leakage or if concentrations are above normal levels. With this technology, potential hazards present in commercial buildings can be monitored to ensure the safety of personnel, property, and resources.
Life Safety Solutions from Wilson Fire Since 1916
You can take proactive steps to mitigate the risks of carbon monoxide poisoning in commercial buildings. Natural gas detection systems are a key part of any life safety system and can provide peace of mind for building occupants and owners alike.
Wilson Fire Equipment is the premier provider of natural gas detection and fire safety systems. We help keep commercial buildings safe through sophisticated life safety systems using equipment from top manufacturers. Our attentive team is always available to help you create customized systems needed to protect property and people in your building. With Wilson Fire Equipment as your provider of choice for natural gas detection systems, you can rest assured that all safety measures are in place for your home or business.
Here at Wilson Fire Equipment, we have over 107 years of experience providing high quality life safety products and services. We offer a variety of natural gas detection systems to meet the needs of any commercial building. Our team of experts is ready to help you select the best system for your needs. Contact us now to request a quote.