Need a new intercom system? Work with a school intercom integrator in Houston! Intercoms are invaluable for schools. They help with day-to-day operations and are essential for emergency situations. Gone are the intercoms of the past that only help spread school-wide messages. Today's technology is more sophisticated and can be integrated with a wide range of systems to make communications more efficient and effective. No matter the size of your school or your budget, we offer solutions that suit your unique needs. 
Why Work with a School Intercom Integrator in Houston?
There are many reasons why you should work with a team that specializes in integrating intercoms with your school's life safety and security systems. First, school security and safety is a lot different than many other buildings. Schools face different threats and have different needs. They also use intercoms for many different situations. For instance, morning announcements, school bells, paging, and so much more.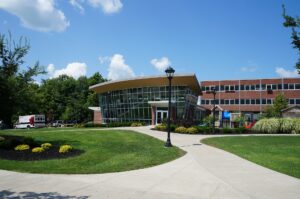 An integrated school intercom system is vital for many schools to function day to day. A well designed intercom system can make school communications more convenient and efficient. They can also play an important role in school safety. Intercoms are also incredibly cost-effective. This is important as we know many schools are on a tight budget.
Some systems we can integrate with your intercoms include:
Video surveillance 

Access control

Intrusion alarms

Mass notification
In many cases, if you already have these systems in place you can even integrate the intercom systems with your current systems and hardware. The first step toward better school communications is talking to the professionals to set up a full audit for your school building.
How a School Intercom Integrator in Houston Helps with Safety and Security
When you think of intercoms, you might think of morning announcements and paging students to the office. However, they're an incredibly important part of your school's safety and security. Immediate, reliable communication between faculty, staff, and students can make a big difference during emergencies. Therefore, when thinking about security and life safety solutions, don't forget about high quality intercom systems. 
Intercoms can help in many different ways, including:
Triggering alarms

Helping staff assess situations

Issuing instructions
Help Trigger Alarms
Many emergencies originate in the classroom. Anything from a fire in the chemistry lab to a medical emergency in the classroom needs quick action. Your school intercom integrator in Houston can help you set up an intercom system that allows teachers to trigger alarms from the classroom without leaving students unsupervised. Communications can go straight to the main office where staff can take appropriate action, like starting evacuation or calling an ambulance. 
Help Assess the Situation
Another way school intercoms can help with safety and security is allowing others to assess situations. This is especially true for intercoms with video capabilities, or that integrate with security cameras. For instance, should a teacher press a panic button on the intercom, the office can view what is happening in the classroom. This can help reduce false alarms and help with fast response to emergencies. Office personnel can check in with the teacher via audio and/or visual to determine the nature of the situation so they know what to do. 
Issue Instructions
Once an emergency is confirmed, your school can also use the intercom to give clear instructions to students, staff, and faculty. As you know, different emergencies require different responses. Fires or bomb threats often require quick evacuation. However, a school intruder may require lockdown procedures where teachers lock classroom doors and help keep everyone out of sight. 
An intercom can help your school communicate the type of emergency and how to proceed. These messages can be pre-recorded and then played when needed to help keep everyone safe. Instructions might include where the primary evacuation site is and how to get there. In some cases, you may even issue different instructions to different zones, such as alternate evacuation routes if a fire breaks out in a main route. These communications can be incredibly valuable to help keep everyone safe and secure in your school
Customizable Systems from Your School Intercom Integrator in Houston
Of course, different schools have different needs. So, it's important to work with an experienced team for school intercom systems. For instance, you might be due for an overall system upgrade for life safety, security, and intercoms. In other cases, you may have systems that are in good condition and just need to update your intercoms. Whatever the case, you need a system tailored to your school. 
The first thing to do when installing a new intercom system is to perform a facility audit. This allows your security and life safety professional to assess the types of risk your school faces. During the audit, we'll also consider where to place intercoms to ensure faculty and staff can quickly communicate with each other. This typically means at least one intercom in each classroom, but it's also necessary to consider hallways and other common areas. After the audit, we help you choose the right intercoms for your needs as well as optimal placement for school safety, security, and day-to-day communications. 
School Intercom Capabilities
We've mentioned that school intercoms are important during emergencies, but they also are essential for many other things for your school. In addition to emergency announcements, intercoms also offer easy communications for less urgent situations. For instance, between two different classrooms or between classrooms and main offices. 
Many schools even use their intercom systems in lieu of the traditional school bell, playing a certain tone to signal the start and end of class periods. School intercom systems can also help with access control for visitors. Integrated cameras and intercoms allow you to keep the front doors locked until the office verifies the person's reason for entering the school. 
So, intercoms are a much more involved system than many people realize. Make sure your school has high quality intercoms to assist with both daily and emergency communications.
Customized Life Safety Solutions to Help Keep Students and Faculty Safe
As a leader in security, fire, and other life safety systems, Wilson Fire Equipment is here to help you protect people and property. We help a wide range of industries improve safety and security for their buildings, including education facilities. Since 1916, we've been delivering customized, state-of-the-art solutions to help reduce risks to life and property from fires and other threats. Whether you need turnkey security and life safety system design or need service and inspection for your systems to maintain compliance with local authorities, our team offers prompt, thorough service at competitive prices. Call us now at (713) 896-4747 to learn more and get a free quote for new system installation or to request a service call!